Can Their Glasses Inspire Your Gift-Giving?
Many people put a lot of thought into choosing their eyeglasses. Nowadays, eyeglasses have become fashion statements. Just like the clothes you choose, your glasses reflect your fashion preferences and personality. With the holidays right around the corner, you might take a different approach when thinking of gifts for your loved ones. In fact, glasses can inspire your gift-giving ideas as you get a hint of a person's unique personality based upon their frames. Here's a roundup of the most common eyeglass frames and some cool gift ideas for those who wear them.
Colorful Frames for the Creative & Fun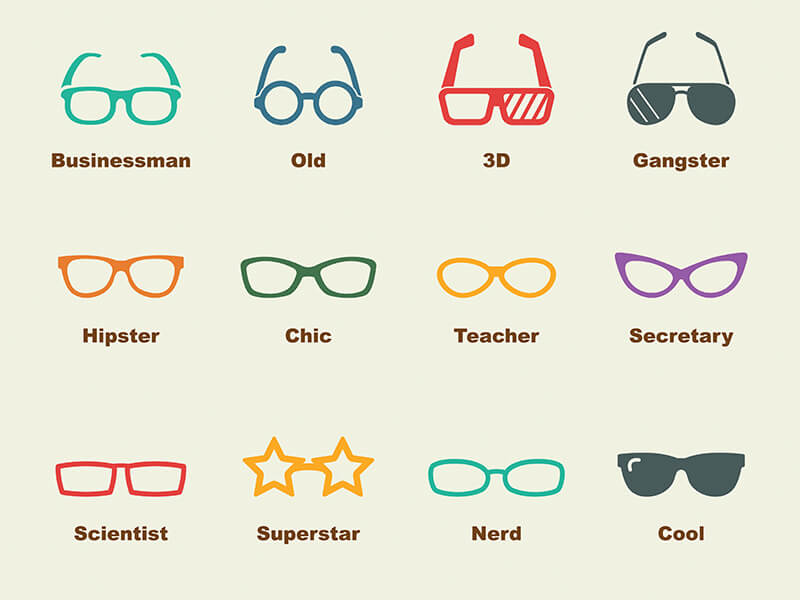 While black and brown frames are the most common and safe choices, some people dare to be different. Those who usually wear colorful frames are creative people or artists at heart. They're not afraid to show their artistic side in anything they wear. Often times, people who are fun and outgoing gravitate toward bright and bold colors.
So, how do their glasses inspire gift-giving? For one, your creative friends may love receiving a Peel N' Stick Chalk Wall Sticker to keep tasks organized. Don't forget to add in the colorful chalk, so they can design it in any way they want. Another great idea is a 3D Pin Art, which makes great table décor.
Thick Black Frames for the Trendy
Thick black frames are for the trendy crowd. They're bold and attention-grabbing, which is something that the young, 20-somethings crowd tend to gravitate towards. Overall, this style of eyeglasses is chic and ostentatious, much like the people who wear them.
What are some trendy gifts to give? For the women, you can get them a chic faux fur cowl loop scarf that will look perfect with any winter outfit. For the men, a wool backyard beanie is one of the trendiest and cool gifts that can suit any winter style.
Retro-Vintage Frames for Classic Fans
Round frames, cat-eye frames, and Wayfarers are popular today. Many eyeglass-wearers prefer them because of the timelessness and retro-vintage vibe, so focus your shopping efforts on things that represent this era.
One fun gift is a Paint with Bob Russ Mug. Not everyone will understand what makes this trinket so great, but those who have a flair for nostalgic 80s vibes will surely appreciate it. Another unique idea is this vintage wall clock, which is excellent for people who love classic American muscle cars.
Browline Frames for Go-Getters
Browline frames were quite popular in the 40s and 50s, but it has a modern appeal today. In fact, this style is now the preffered choice for many modern professionals. You may see the career-focused, determined individuals rocking this style everywhere, from the city streets to the conference room.
An excellent gift for the career people is a pair of wireless Bluetooth earbuds for travel and conference calls. Or, pick out a 2TB external hard drive to make sure they have a backup of all their files. Another handy gadget they might love is the HP Sprocket Photo Printer, so they can print photos wherever work takes them!
Let Their Glasses Inspire You
The glasses people wear can say a lot more about them than the bag or shoes they wear. Eyeglasses offer a subtle hint into one's personality and individual style. So, use them to your advantage when selecting thoughtful presents to give this holiday season! Are you looking for eyeglasses that show off your unique personality? Check out Looking Glass Optical's frames for men, women, and kids! Schedule an appointment online today, and our knowledgeable staff will be happy to help you find the perfect pair.