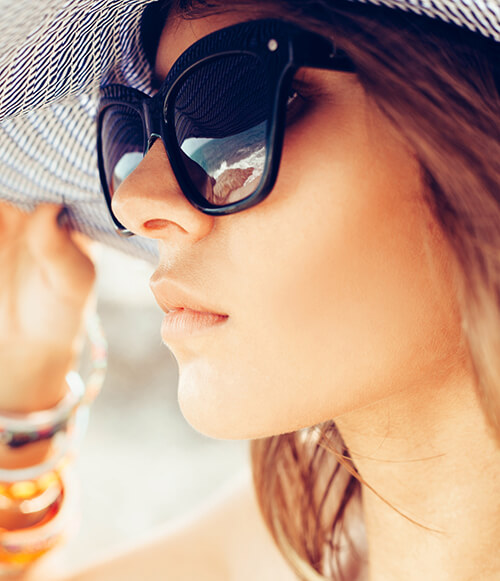 If you have worn glasses for years, you may understand the frustration of squinting in the sun or experiencing difficulty when exercising or participating in sports during a bright day. It is possible that you have been considering prescription sunglasses for years, but were not sure if they are worth the investment. Here are many reasons prescription sunglasses are worth the investment.
Driving while on a bright day can cause excessive squinting and watery eyes. It creates a potential driving hazard as your depth perception can get thrown off, or hinder your field of sight. Further problems with optimal vision can occur, surprisingly, on a rainy day. Using prescription sunglasses with polarized lenses enhances optical quality can improve color and contrast and enhance depth perception.
Anyone who has ever been on a boat in the middle of the water on a sunny day would attest to the fact that sunglasses are a vision saver. Glare-proof optical sunglasses with polarized lenses instantly enhance sight and ease the visual strain.
Sunglasses serve to not only protect the eyes from harmful UV rays while running and biking, but also from flying debris. Foreign objects, like dust, tiny particles, and bugs will not only irritate the eye, but can cause a scratch, or infection.
At the beach or the pool, the sun can be blinding making it is near impossible to keep your eyes open, even if you have a hat on your head. The FDA recommends that you never wear contacts while swimming because it can introduce harmful bacteria which cause eye infections.
Also, wearing contacts on the beach can make your eyes itchy and watery due to the effects of sand, sun, wind and water.
Optical Sunglasses have grown in popularity, therefore increasing the variety of styles and designs available. Rising demand has also served to expand the market, lower the cost, and improve the quality. Many fashion designers have realized this and have jumped into the arena and are offering both classic and trendy styles.
Looking Glass Optical carries a wide variety of prescription sunglasses featuring designs by the famous​ Maui Jim, Rayban, Nike and Addidas. This eyewear will protect eyes from harmful UV rays that can potentially cause cataracts and macular degeneration. Call today for an appointment or stop in and shop our extensive selection.